USA -day 3-NYC
Continued from
USA -day 2-Princeton
A calm and refreshing morning comes.
Thanks to our friend's family we enjoyed staying.
We returned the car and the friend drove us to the station, Princeton Junction.
We go to New York City by New Jersey Transit, a local train between NYC and New Jersey.
We used to use this train to go to New York very often.
Arriving at NY Penn Station for 1 hour+.
Madison Square Garden is just above the station.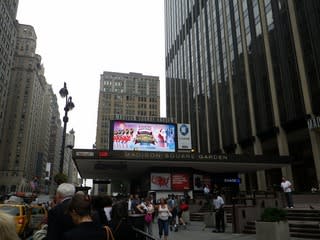 A long cue for taxi, but our turn comes soon as many taxi cabs are running.
We come too early and we cannot check in. We just leave laggage and go out by a subway.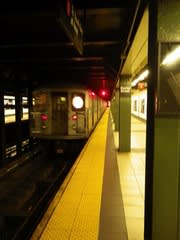 It's also been for a long time to use NY subways.
We used a token for a ride but now we use a metro card.
We go to the Ground Zero.
We wanted to go into the memorial center, but it was already full.
The WTC towers were seen everywhere when I came to NYC, as a good landmark for me.
WTC is a symbol to me as well and I have good memories with it.
I still cannot believe it has gone.
I was drawing its shape in my mind when I watch the sky above the memorial center.
A new building construction has already begun.
World Financial Center, next to WTC. I have been to the office at there several times.
It looks lonely without WTC.
We go to Chelsea, which has a branch of one of our favorite restaurant.
Chelsea Market.
There are many good food stores and delis.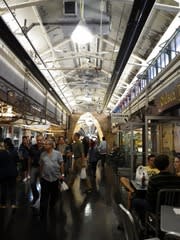 We take lunch at one of them.
After that we go to Rockfeller Center, as a usual sightseeing spot.
We wanted to go around more, but it started raining.
Checking in the hotel and we take dinner early.
I found a good place from a google search.
They have nice lobsters.
As a Japanese, the lobster would be much better if cooked more medium rare.
Francisco's Centro Vasco
159 W 23rd St
New York, NY 10011
Mon-Fri 4:00-11:00pm
Sat 2:00pm- 11:30pm
Sun 2:00pm-11:30pm
Tel: (212) 645-6224
On the way back we found sake barrel at a liqour shop.
I am very familiar with the left one. I was paddling just beneath the sake brewery.
It is nice to walk around in NY again. I feel like as if I would walk around in Tokyo.
Continued to
USA -day 4-Michigan
.