Cycling-Day 25-Tama river and Sagami river(97.5/4,746.5km)
Day 25, 79days for cycling, total distance 4,746.5km, total climb 60,476m
Tama river and Sagami river 5:24-16:09
Distance today 97.5km, climb 698m, duration 5:56, avg speed 16.4km/h, burned 3,012kcal
Gear: Specialized Rockhopper Pro
Route today
.
Nice weather today. It's good enough to go far. I planned a route from Tama river to Sagami river, over 150km in total.
I get up early and start at 5:24.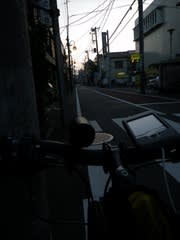 The sunrise is still shining.
Running on Tama river.
Getting cooler and nice to run.
At 6:58 Left Tama river and turn to Koshu road.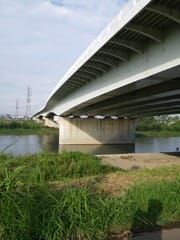 Running along Asakawa river, a branch of Tama river.
I lost several times and finally arrive at Sagami river.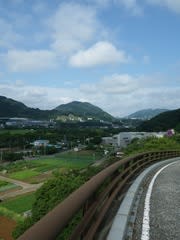 Kami Oshima camp site, the place where kayakers are practicing tricks.
I have been there once.
At 8:47 Oshima.
A kayaker on a yellow STAR is practicing. We chat for a while.
Now I run along Sagami river.
The road ends and I had to climb to go back. Too bad.
Running in residential places, going down to banks and going back, the route is not efficient.
Finally the road gets smooth and nice to run.
At 10:12 Atsugi, crossing with Odakyu line.
I also crossed with Odakyu at 6:00 on Tama river. It's emotive to cross again in such a far place.
Sagami cycling road is not well organized.
Nice road, but..
it gets like a single track.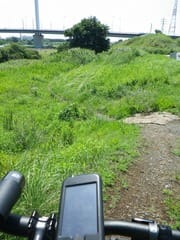 I was lucky to come with MTB.
At 10:56 Hiratsuka arena.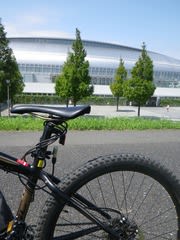 At 11:10 mouth of Sagami river.
40km, 2 hours and half from Oshima.
Then running along R134.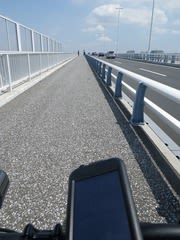 A long cue for parking lot.
Today is the last sunday in the summer vacation.
At 11:47 arriving at Enoshima.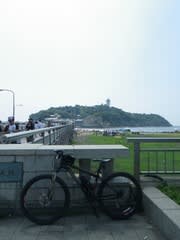 I wanted to have lunch at Enoshima, but every restaurant is full.
It is miserable not to eat anything at Enoshima.
Kayakers on Sakai river.
Then I go along with Kashio river, go through Totsuka, Yokohama then reach to R15.
At 15:18 crossing Tama river.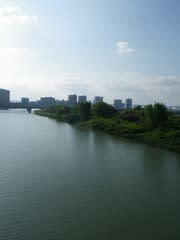 Come home at 16:11.
Today I am exhausted on the way back and could not pace up.
It is because I was running with higher gears.