Cycling-Day 24-Kan7 around(97.5/4,649.1km)
Day 24, 78days for cycling, total distance 4,649.1km, total climb 59,778m
Kan7 around 8:26-14:59
Distance today 97.5km, climb 698m, duration 5:56, avg speed 16.4km/h, burned 3,012kcal
Gear: Specialized Rockhopper Pro
Route today
.
Today the weather is not so good but it looks ok when I got up.
I won't go far today in case it starts raining.
I live close to Kan Nana (Circle street #7) and I wanted to go around it once.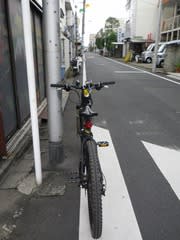 Kan Nana, or circle street #7 goes around Tokyo city. There is Kan Pachi, or circle street #8 is outer than #7, but it is not a perfect round. Then Kan Nana is the outmost one.
8:38 I start at the cross with Meguro street.
Going to the South.
9:23 Jonanjima island.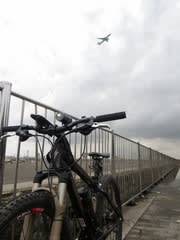 An aircraft is flying. The island is close to Haneda Tokyo international airport.
I am not sure where is the west end of Kan Nana.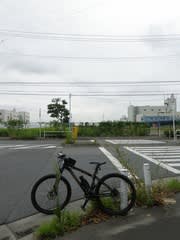 Perhaps this is the west end.
Now I run on the bayside of Tokyo.
11:00 Kasai Rinkai Park. This is the east end of Kan Nana.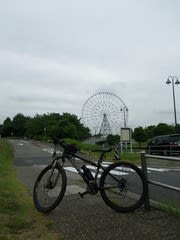 Tires of my bike look as large as the Ferris wheel.
Now the start of Kan Nana.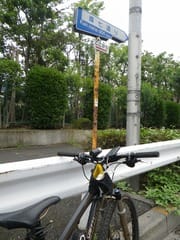 Wow! How steep!
My bike is a MTB but I have no skills to go up and down on stairs.
There are three stairs all the way of Kan Nana street.
I turn aside to Taishakuten temple (Indira temple).
12:03 Taishakuten temple.
I came here last September
.
I eat sweet rice dumplings just like last time.
This is my breakfast and lunch as well.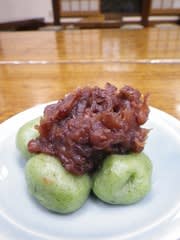 I found I have not ate anything.
Now I come back to Kan Nana and resume again.
13:23 Shikahama bashi bridge. Probably this is the north end.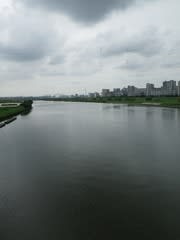 Arakawa cycling road is seen. It should be much better to run with fresh air and no traffic signals.
Keep running. Arriving at Toyotama at 14:01.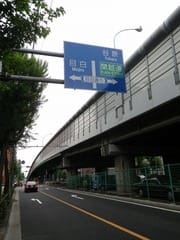 This is where I turn to Kanetsu highway when I go to Hakuba. I know the road very well from here.
14:27 Sasazuka.
I attempted to eat curry with rice at one of my favorite coffee shop when I worked around here.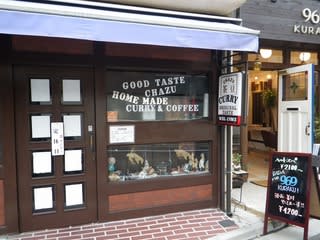 It is closed on Saturday. It is good that it is still there.
14:53 Coming back to the start point.
Less than 6 hours to go around. I hopped to Jonanjima and Taishakuten, so the net should be less than 5 hours.
Google map told me the total was 84km last night, but the actual total is 97km.
Is it because I went to Jonanjima and Taishakuten?
Today I ran less than 100km and not so hard.
Kan Nana is just a road and I thought it was boring, but so far it was fun.