Cycling-Day 21-Norikura Hill Climb(39.8/4,404.7km)
Day 21, 75days for cycling, total distance 4,404.7km, total climb 55,241m
Norikura Hill Climb 10:06-14:30
Distance today 39.8km, climb 1,401m, duration 3:8, avg speed 12.7km/h, burned 1,221kcal
Gear: Specialized Rockhopper Pro
Route today (outbound)
.
Route today (inbound)
.
I've got an accident last week
, so I can't ride on a road bike, but a MTB.
Today I try climbing on Norikura, where a famous competition in Japan is held.
I woke up late so the start time is delayed as planned.
In summer holiday season Route 158 was busy.
A parking lot at the start point is almost full.
Started at 10:06.
Clear view of Mt. Norikura. Very far away.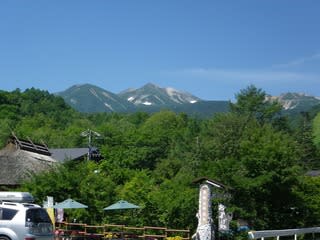 10:48 Sanbontaki. End of cars and motorcycles. Now the time of bicycle.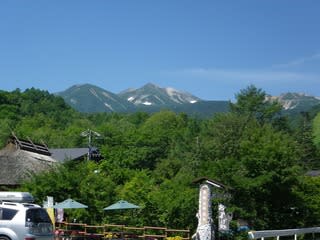 Very very long way, but it is already cool at the start point, 1500m height.
Over 2500m I've got an altitude sickness.
12:32 Highest point.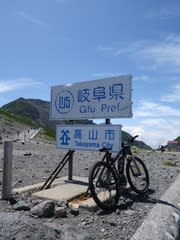 The bicycle fell and broke the iphone attachment... too bad.
When I came here
, there was much snow.
The snow was just under the signboard.
12:40 Tatamidaira, the final place.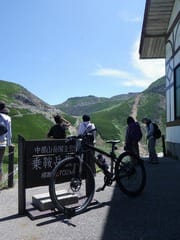 20.5km from the start, 1260m elevation climbed for 2 hours and half. Many road cyclist passed me.
I also climb to one of peaks, Mao-dake (Mt. Mao, or Satan).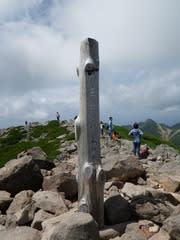 I wanted to go to Kengamine, the highest peak, but it takes 90mins to walk. Perhaps next time.
Nice view of Hotaka summits.
A long cue for a bus to return.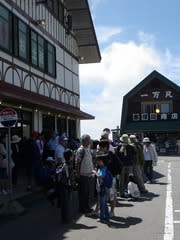 Bus comes every hour. I was passed by a bus only once on the way here. Cycling is much better to me, because I hate waiting.
Now the time to descend.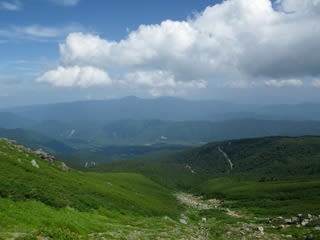 Nice view to look down.
Some are skiing on snowy slopes.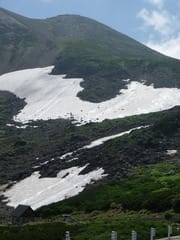 I hope it snows soon...
A short break at Kuraigahara cabin, where I stayed in April for skiing.
Then keep going down. Some are still climbing.
Entrance of ski area, where we start backcountry skiing.
Nice climbing. besides my hip hurts by a hard saddle.