Cycling-Day 20-Chiba(Retired by accident)(51.6/4,365.0km)
Day 20, 74days for cycling, total distance 4,365.0km, total climb 53,840m
Chiba(Retired by accident) 6:09-9:35
Distance today 51.6km, climb 410m, duration 3:26, avg speed 15.0km/h, burned 1,807kcal
Gear: Eurasia 520
Route today
.
I get up early and go cycling as usual.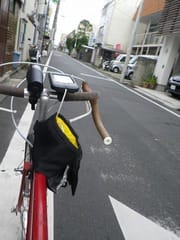 Today I go to Imbanuma, located in the east of Tokyo, where a delicious eel is famous.
Nihombashi for an hour. I want to go faster, but many red signals stop me in downtown.
Tokyo skytree.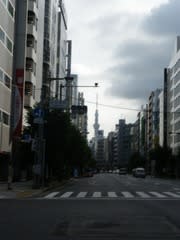 I run route 14 and turns for Narita.
Then I got an accident.
When I was running on the left, a small bus attempted to turn right to a gas station behind a truck.
I found it and tried to stop, but clashed to the front of the bus.
No injury is incurred fortunately.
The bus has a scratch and the front of my bicycle is broken.
The front fork got bent and the wheel cannot run.
The handle also got bent.
I called a police officer and had an inspection. The case will be treated as a property damage only. The insurance companies will discuss this case.
My bicycle cannot run any more and I had to retire here.
I carried the bicycle to the nearest station and took a train carrying with it.
I always carry a travel bag for a bicycle (Most of Japanese rail companies' policies require to put a bike into a bag).
It should be much more scary if I hit a bike when I were driving and would have turned right.
In Japan a car driver bears more responsibility than a biker. You may destroy your life when you hit a bike. Be careful when you turn right in Japan. Watch carefully and stop to see if a bike runs behind a car.