A trip to Kyoto
My friend Craig in US comes to Japan.
He was thinking to visit somewhere out of Tokyo but had no idea yet. I recommended some places and finally suggested to go to Tokyo.
I was off today and I took them.
It's also exciting to me because the last time in Kyoto was very long time ago.
I pick them up at the hotel lobby and go to Tokyo Station.
This is the first time for them to ride the bullet train, and it has been a long time to me to ride the Tokyokado one.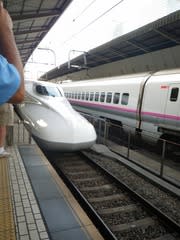 We have 6 in total, and rotate the seats facing each other, but it was not a good idea.
It is too narrow for Americans. Their knees hit each other.
Arriving at Kyoto and taking a van service.
If I were accompanied with 2 or 3, I could drive but I am not confident to drive a large van. I don't know the road much either.
The first place is Kinkakuji (The golden pavilion).
It's good for the weather, but it gets hotter. It has been cooler in Tokyo and it becomes tough to me.
The next place is Ryuanji.
The rock garden. 14 rocks are seen, and just one little piece is behind a big rock.
You would see all from the heaven.
We go to Yakitori restaurant the driver picks for us.
They like it and order extra plates.
The next place after the lunch is Nijo castle.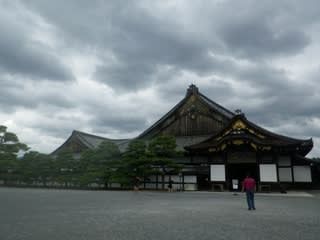 They like the Uguisubari floor (singing floor, a floor makes noise when somebody, even a Ninja, walks).
Nijo castle is also new to me. It is interesting.
Nishiki market.
They are getting tired, just arrived in Japan yesterday.
The last one is Koyomizu dera, a temple with a big stage.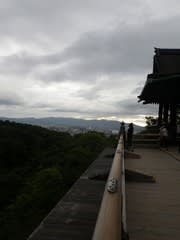 There are some rental stores of Yukata, or an informal summer kimono. We see some girls in Yukata.
They ask me what is the difference between the girls and Maiko.
We have dinner at a small restaurant.
Maiko show is included.
After the meal we see Maiko dance.
Then we play a game called "Kompira fune fune".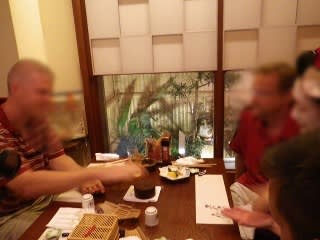 The rule is very simple. You put a hand on the cup one by one, or take the cup away. When the cup is taken you have to put a fist. If you put a wrong one, you lose.
I lose the game but Craig wins, as he is a good video game player.
It is a good time to see Maiko's dance.
Then we go back to Tokyo.