My sweets -Day 25(Yawataya Isogoro)
25 days for this season
Shichimi Togarashi, or seven flavor chili pepper, is one of popular spices in Japan.
Yawataya Isogoro is one of famous spice store just in front of Zenkoji tempre with its long history.
They have introduced macaron with the seven flavor chili pepper of theirs.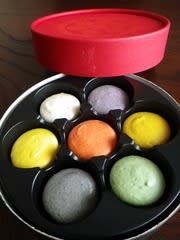 Profile:
Yawataya Isogoro
7 Macarons 1,260yen
White (poppy)
Purple (perilla)
Brown (ginger)
Green (Japanese pepper)
Black (Sesami)
Yellow (Japanese citron)
Red (chili pepper)


It seemed weird to use chili peppers for macaron.
They taste the pepper and other spices but it is a good accent for sweet macarons.
Very colorful with rich flavor.