Cycling-Day 17-Tokyo Bay around(209.2/4,170.6km)
Day 17, 71days for cycling, total distance 4,170.6km, total climb 50,929m
Tamagawa and Haneda 5:00-19:24
Distance today 209.2km, climb 1,427m, duration 11:28, avg speed 18.2km/h, burned 6,112kcal
Gear: Eurasia 520
Route today
.
Today I attempt to go around Tokyo Bay. I get up early and leave at 5:00 am.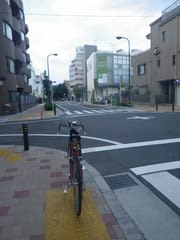 I try to run along the bay side as much as possible and choose Route 15. at 5:26am.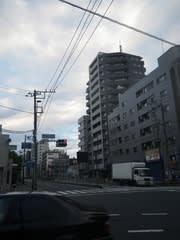 5:36 Heiwajima. Route 15 goes to the right and that way is much shorter. But I go to the left to run the bay side.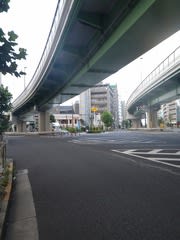 5:49 Taishi bashi bridge. I checked this route
last week
.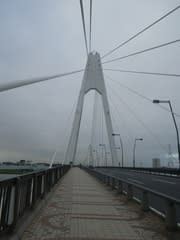 6:33 Yokohama, Minatomirai.
30 minutes late as usual after I chose the longer route.
6:46 Yamashita Park at Yokohama port.
Few people are seen.
I have to go further to catch a ferry across the Tokyo bay. It runs every hour and I have to wait for an hour if I miss it.
7:34 At Isogo, south of Yokohama city, I find my front tire got flat.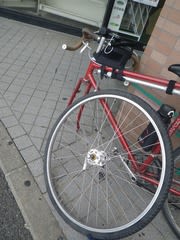 I am not good at the repair.
I usually bring the spair tube, but it is difficult to put the tire into the rim.
After setting the tire, my pump got broken!! Very unlucky.
I thought I had to give up here, but I found a gas station and borrowed a pump.
I lost an hour. The ferry will be the next one. If I take it one hour later, the arrival at home will be much later. I thought I should give up, but I continued.
I speed up and could catch the next one.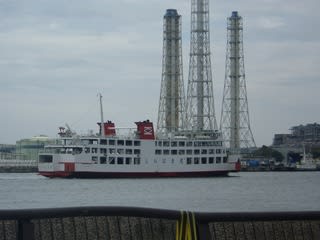 Arrived at the ferry port at 10:00. The ferry leaves at 10:20.
This is the first time to get on a ferry with a bike.
I go into the ferry on the bike.
Yokosuka curry bread for my breakfast. I was running for 75km without eating.
After the meal I took a rest. It is good to take a rest.
Many cargo ships are running in the bay.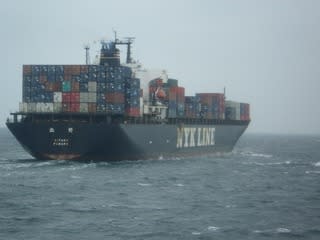 I am the only cyclist today.
11:05 Landing on Kanaya port.
Now, this is the real start. 120km away to home.
Looks calm and pastoral on the other side of the bay.
Against winds are too strong for me to run. 20km/h is the maximum.
Futtsu Point.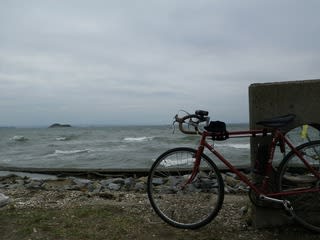 Very windy.
It was a nightmare after Futtsu Point. I drink all and cannot find any stores or even vending machines, because the area is a petrochemical complex.
The road looks easy to run,
But the against wind is very strong. 15km/h is at the maximum.
I got thirsty and hungry. A piece of power bar I bring saved me.
I found a convenience store. It is the true oaysis.
I pitched a piece of bread and jerry.
Kisarazu, an exit of Tokyo bay tunnel. If I would give up here, I could go home very easily by bus.
Go on, go on.
After Kisarazu, I cannot find a store either, bacause it is also other complex.
Also very strong against winds discourge me.
It hurts me mentally.
15:30 This building looks scarely like a ghost building.
AT Chiba city I go into Route 357 with the different direction. Now the against winds have gone, and I can run fast.
16:44 IKEA.
17:25 Tokyo Disneyland. Keep going.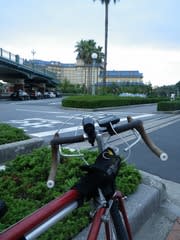 17:54 I turn to the land side at Ariake.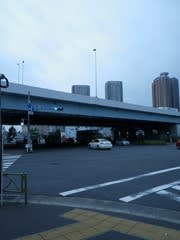 Route 357 goes along the bay but a bicycle is prohibitted to go further.
18:03 Toyosu station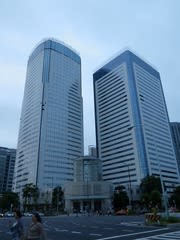 The bridge (Rainbow bridge) across the canal. A bicycle is also prohibitted there.
I made a record over 200km.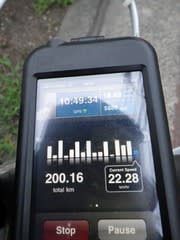 I returned the start point at Route 15 at 18:56 after 13 hours and half.
19:25 The tour ends with 209km run.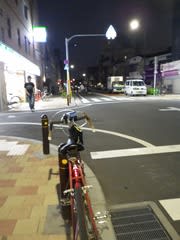 I probably will not do this again. The running along the complex is very tough without food or drink supply.
I was giving up many times today but the reason I kept running was,
because I never want to do this again.
If I would give up on the way, I would have to come back again and try.
Tips for followers;
1. If you start from Tokyo, you should catch the ferry at 9:20. The ferry at 10:20 is too late to come back.
2. It was not a good idea to run the bay road in Kawasaki city. It is not fun and the way is much longer.
3. Supply enough food and dring at Futtsu city and Ichihara city. No food or dring is supplied between the cities.
(actually there are some convenience stores on the other side of the road but it is bothersome to cross the road)
4. Run carefully on Route 357, as cars run very fast.
5. Try to run Kaigan dori in Tokyo in daylight. Due to the energy save it is dark.