Cycling-Day 15-Misaki port(146.6/3,926.6km)
Day 15, 69days for cycling, total distance 3,926.6km, total climb 49,167m
Misaki port 5:25-16:51
Distance today 146.6km, climb 1,333m, duration 9:1, avg speed 16.3km/h, burned 4,364kcal
Gear: Eurasia 520
Route today
.
Today I want to go a little far and get up early.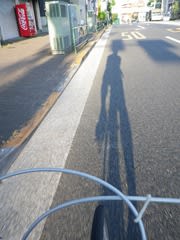 My shadow is still long.
Maruko bashi bridge, where I always cross to the west.
My shadow is still long.
It's before 6 o'clock but it becomes hot.
6:45 Yokohama Minato mirai. I go further today.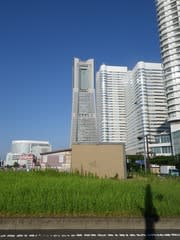 I want to eat tuna fish at Misaki port. Misaki port is located at the south end of Miura Peninsula, where tuna fishes are unloaded. Almost 70km away from Tokyo.
I run on Route 16. The road is almost flat. Be careful of tunnels.
8:01 "Misaki" is found in a traffic signboard after Yokosuka city.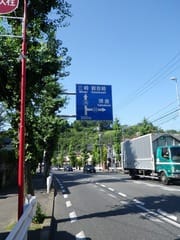 9:17 Mirua kaigan beach.
Beautiful sea.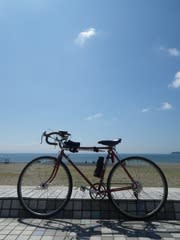 Bike and the sea. Good photo.
10:06 Arriving at Misaki port.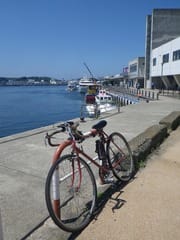 71km from home, 4 hours and half.
Now the time for tuna fish!! But most of restaurants are not open yet...
Most of them open at 11am.
Killing time to run around.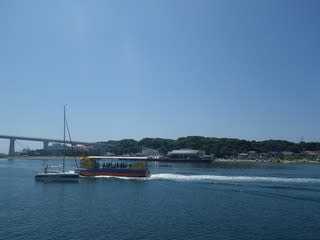 Jogashima island.
After running around I go to the restaurant I wanted to go. Some guest are already there. I should come earlier and drop my name on the waiting list.
I have a seat soon, but my meal comes late since a big party comes before me.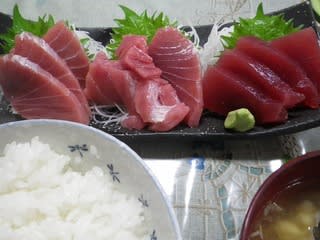 3 assortments of tuna, 1500yen. Nice!!
Now, 4 hours and half to come, eat tuna, and go home for 5 hours.
Summer festival at Misaki port.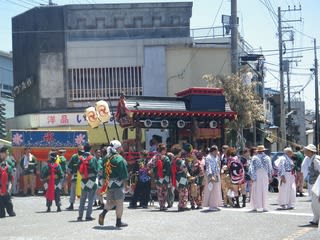 On the way back I use Route 134.
Highland of Miura city.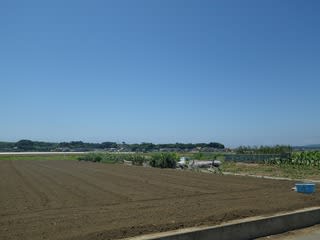 I like this scenery. Fields spread far, wide blue sky, looks like Spain.
Route 134 is along the beach.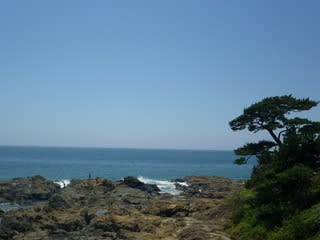 It should be hot today, but very cool with sea winds.
This road is good for running. I should come here earlier.
But it is not good to run in the evening. In the evening the wind blows from the beach and sand comes into your eyes.
Mellow Yellow reminds my childhood.
The beach is crowded with swimmers.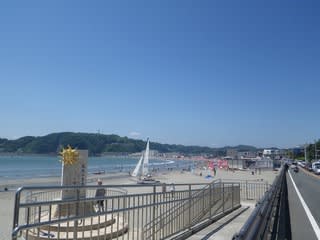 13:37 Yuigahama, I say good-bye to the seaside road and turns to Kamakura. It is hot inland.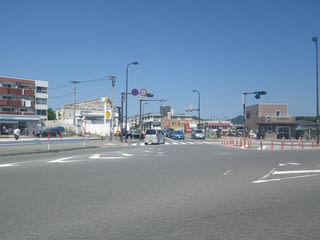 Hato sablé (pegion sablé) is a biscuit made in Kamakura.
I used to have it when I was a child as guest always brought it.
14:23 Kashiogawa river cycling road.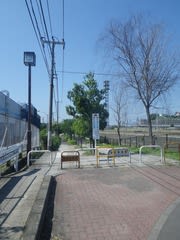 Very flat and no climbing.
16:00 Tama river. I become exhausted and slow down.
Today, my cycling was ending with good feel but road bikers hurry me up.
When I stopped at the railroad crossing (in Japan you must stop at the railroad crossing in Japan), the bikers passed me without stopping.
Other bikers passed me and spread out over the lane (in Japan a bike must run on the left of the lane in one line) and ignored red signals.
Their behaviors made me feel bad.
In general the running was very nice except it.