Ski day 56 at Yukikura
56th day for this ski season, 33 days for powder, 23 days for backcountry, telemark for 15days
Yukikura 6:45-14:00
Gear: Teneighty GUN+GARMONT RADIUM
Continued from
Ski day 55 at RengeOnsen Spa
.
Today we were going to Mt. Yukikura, a mountain always seen nicely from Renge Onsen, but I have never been there. I look forward to going there.
But the weather looked bad. The forecast said it would be fine, though.
Skiing down from Renge Onsen and climbing up after crossing a creek.
After we started climbing, it started raining.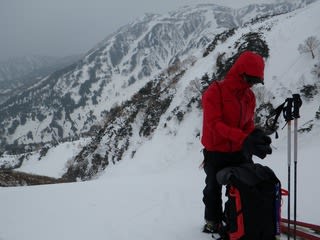 Taking a shelter from raining.
It was too windy and it almost blew the shelter away.
We started again after the rain.
We arrived 300m before the peak,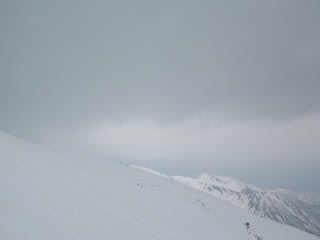 But other dark clouds came.
We decided to stop climbing here.
It started raining again heavily, when we were preparing to go down.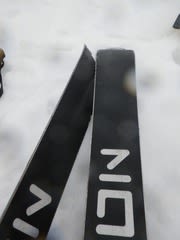 Sooner, the rain turned to hail and then sleet. And lightening!
We probably might be hit where nothing else was there.
Going down very fast. No time to take pictures.
It seemed peaceful down there, but the thunder was chasing us.
Traversing to Renge Onsen.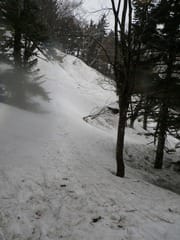 It is always depressing to pass over several creeks on the way back to Renge Onsen.
The thunder was still rolling, and a flash came in front of me once.
I am not afraid of the thunder when I am in Tokyo, but it was really scary.
Now I felt very happy when I saw the lodge.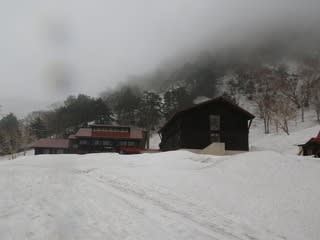 We totally got wet.
How reliably the forecast is!!
Continue to
Ski day 57 at Renge Onsen