Ski day 31 at HappoOne
31st day for this ski season, 20 days for powder, 9 days for backcountry, telemark for 11days
HappoOne 8:00-11:10
Gear: Teneighty GUN+GARMONT RADIUM
Low pressures are coming!! Anywhere will do today!
However Cortina is risky if #4 does not run.
Happo will be good to me with my season pass.
20cm fresh snow on my car.
I thought the gondola lift started at 7:30 but it was at 8:00.
I asked an operator but he told the time is irregular. What??
Today they had an early morning service and some were already running on Central when the gondola started.
I went straight to Alpen without Central.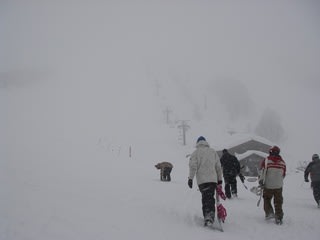 Junkies were coming!!
I was 5th or 6th at Alpen lift, and went straight to Tanuki without Usagi. Then I got the first track!!
Very light and fine snow, not like in Hakuba. I got high speed!!
Went to Tanuki again, but it was already gone.
Next was Kurobishi and Skyline. Few fresh snow remained.
Skyline pair lift had just started when I came.
It was gone already?
3 runs at Skyline, one Panorama and one Kokusai to finish.
Panorama and Kokusai were already finished.
I got a new jacket (left) at
Rapie
, where many gear and cloths are available. Staffs speak English.