USA day 8/Ski day 15 at Powder Mountain
15th day for this ski season, 10th day for powder, 6 days for backcountry, telemark for 5days
Powder Mountain 9:30-15:40
Gear: Teneighty GUN+GARMONT RADIUM
continued from
USA day 7/Ski day 14 at Snowbird
We went to Powder Mountain today.
Is that a real powder mountain or just its name??
I-15 was already dried up.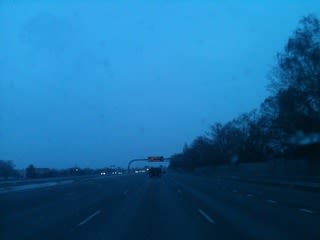 Nice sunny day.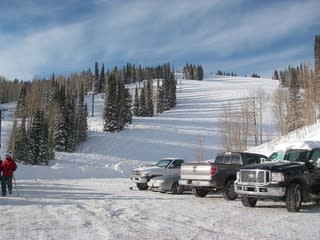 But, the temperature is -3F.
Extremely cold!
Main trails were already finished, but the other side was...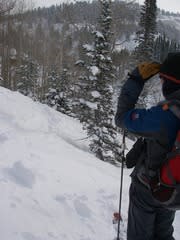 No track!!
We enjoyed the fresh powder (no picture, because my camera's battery was gone in -3F).
There is no lift in this side,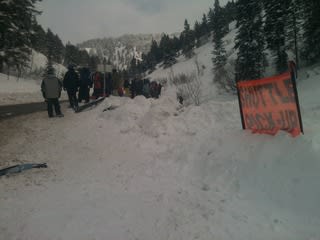 but a shuttle service is available.
We enjoyed the convenience for the first, but the next time was too crowded for us to ride the bus.
We had to wait for the next bus in -3F. Our bodies were fully chilled.
We ended up this area.
After the lunch (it was still cold even in the cafe) we went further and found-
a tremendous area.
No lift serve was there and we climbed up.
Then,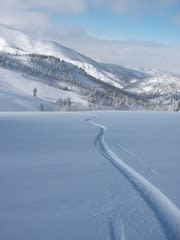 An amazing world.
We climbed there twice.
Even though the slope was gentle, we could go down with very light snow like feather.
A nice day for the end of year 2010.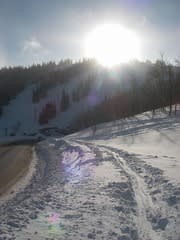 Skiing in -3F is my first experience.
A new year is approaching now. We had a year-end party with my friend.
continued to
USA day 9/Ski day 16 at Park City