Cycling Day 29-Shibamata Taishakuten(66.5/1,864.6km)
Day 29, 38th day for cycling, total distance 1,864.6km, total climb 23,250m
To Shibamata Taishakuten 11:07-16:49
Distance today 66.5km, climb 541m, duration 4h42m, avg speed 14.1km/h, burned 2,166kcal
Gear: Eurasia 520
The run 115km yesterday was tough for me and waked me late.
Wondering to go out but decided to go, considering to stay at home useless.
The destination might be Shibamata Taishakuten(Indira temple) or the source of Kanda River.
My wife suggested me to have 'Odango', or rice dumpling at the temple.
How sweet!
Then I decided to go to Shibamata Taishakuten.
Google map gave me 25km as the distance. It is not further than Yokohama, but I don't know much about the East side of Tokyo, which may take me more.
Nihombashi bridge, the zero milestone of Route 1, 6, 14, 15, 16 and 20.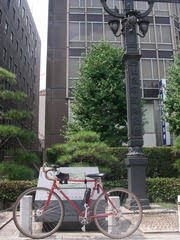 The signboard above the bridge was written by Tokugawa Yoshinobu, the last Shogunate.
Heading to the North East from the bridge and Tokyo Sky Tree was seen ahead.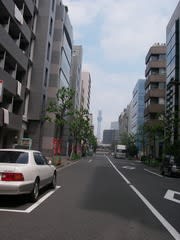 It's a nice landmark.
The way is not the shortest but it is nice to stop by.
Tokyo Sky Tree. I came here exactly three month ago.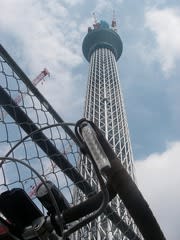 Grown more since then. You see how high it is if you see the angle looking up the handle of my bicycle.
The height is currently 448m. The total will be 634m, so appx. 200m to go. What a great construction!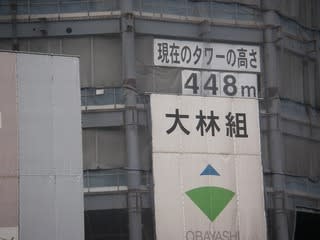 Stopping by Sky Tree made me lost the way, as I guessed. Need to learm more in the East Tokyo.
Finally, arriving at Shibamata Taishakuten.
After visiting the temple, the sweet rice dumpling came. This is the main purpose of my ride today.
Very nice! Nothing is more than a fresh one.
Just east side of Taishakuten is Edo River. Chiba prefacture is just across the river.
I ran on the Edo cycling road.
Not too busy, and even walkers are more than cyclists. I like it.
On the way back I used the route 6, which leads me very easily.
Sky Tree was seen again, on Yotsugi Bridge.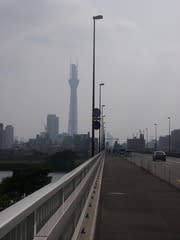 Turining to Arakawa Cycling road, where many cyclists are running tense. I don't like it but this is the fastest way heading to the South.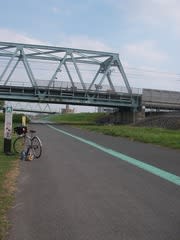 Going out of the road at Kiyosuna Bridge.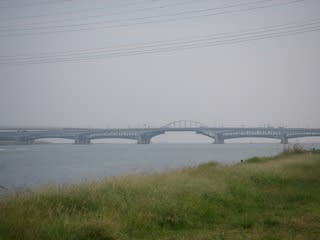 The estuary was seen ahead.
Tokyo Tower on the way back home.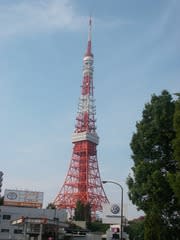 It was still hot, but I felt autumn in the sky.
The route today
. How embarrassing I lost and went around after the Sky Tree.